To challenge the norm of an everyday toaster while making the interaction smooth as well as instinctual and predictable while thinking about the users interaction with the object.
Digital Sketching | SolidWorks CAD | Adobe Illustrator | KeyShot
Reconsider how we usually interact with a standard toaster, and introducing a different way to do so.
By incorporating customizations and features that makes the interaction and communication with the toaster more personal and enjoyable for the user.
Design Process - Discovering and Sketching
The sketches started off being about understanding the form and function of a standard toaster today and figuring out exactly how pieces and parts of the toaster work together, and what is absolutely essential to the characteristics of the form.
After observing and understanding, I followed through with more sketches but for ideation and creation of what I wanted to design while keeping the authenticity of the toaster. Whether that be making it portable, or wireless, I also wanted to make the toaster more compact.
Design Process - Creating
While incorporation the standard equipment and parts required for a toaster to function as so, I. wanted to go outside of the scope in how a user would interact with the toaster. One of these ways was incorporating a lunar motion of how the toast would be inserted as well as released. I also honed in on customization in terms of how the toast is actually being toasted and thinking about user preferences and well as having a set of delayed timers making it easy for the toast to be ready when the user is as well, making the user and the toast synchronized.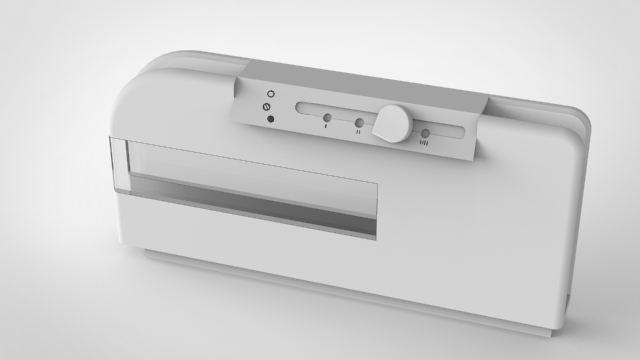 Here, the toaster is placed in an environment, showing scale, and context.
Design Process - Executing
As thing became unclear in terms of situating myself when the pandemic began, I took the time to further explore and simplify my form and creating a new set of interactions and fabrications that I believe pushed my ideation a bit furtherer.